.
Inloggen
Als u een account bij ons heeft, meld u dan aan.
Nog geen account? Registreren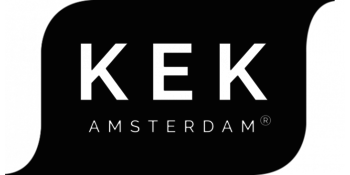 KEK Amsterdam
KEK Amsterdam behang
KEK Amsterdam ontwerpt verfrissende muurdecoratie waar elke behangliefhebber verliefd op zal worden. De collectie bestaat uit verschillende categorieën met de mooiste printjes, zoals verschillende bekende museumstukken waarmee u zich direct in het Rijksmuseum waant. Het Golden Age Clouds behang leent zich perfect voor boven het bed, waardoor er een rustige dromerige sfeer ontstaat in de slaapkamer. Of u nu op zoek bent naar een echte eyecatcher liever rustige elegantie in huis haalt, met KEK Amsterdam kunt u alle kanten op.
Naast behangpanelen en fotobehang ontwerpt het Nederlandse designmerk ook behangcirkels. Deze eigenzinnige designs zijn perfect voor bijvoorbeeld de muur bij de eettafel of in de gang. Kies voor een dromerig landschap met het Golden Age Landscapes behang of haal een klassiek jaren '30 ornament in huis met een Ornaments behangcirkel.
KEK Amsterdam behang bij Coloredwalls
Bij Coloredwalls kunt u de behangcollectie van KEK Amsterdam vinden. Met de behangprints van KEK Amsterdam behang kunt u de sfeer in uw huis zelf bepalen. Het behang van KEK Amsterdam is verrassend en eigentijds. Het KEK Amsterdam behang wordt gemaakt van sterk vliesbehang en speciaal voor u op bestelling geproduceerd. Heeft u behang gezien dat niet op onze website staat? Neem contact met ons op!
KEK Amsterdam behangcirkels
De KEK Amsterdam behangcirkels geven veel sfeer aan de muur. De behangcirkels zorgen voor een speels effect in uw interieur. De KEK Amsterdam behangcirkels zijn afbeeldingen die geprint worden op hoge kwaliteit vliesbehang. Het is een leuke aanvulling op het huidige assortiment van KEK Amsterdam. De behangcirkels zijn verkrijgbaar in verschillende maten.
KEK Amsterdam Golden Age
De KEK Amsterdam Golden Age Flowers behangcollectie is gebaseerd op de beroemde schilderijen van Jan Davidsz de Heem. Prachtige bloemen uit de Gouden Eeuw zijn te zien op het behang. Het Golden Age Flowers behang heeft een klassiek moderne uitstraling. De schilderijen van Hendrik de Voogd zijn een inspiratie geweest voor KEK Amsterdam Golden Age Landscape behang. De muurbekleding bestaat uit diverse landschappen waaronder bomen en tropisch palmbomen behang. Op het KEK Amsterdam Golden Age Clouds behang wordt er een mooie wolkenlucht afgebeeld. Dit zorgt voor een rustgevend gevoel in uw interieur.
KEK Amsterdam fotobehang
Fraai KEK Amsterdam fotobehang vindt u bij Coloredwalls. Alle mooie fotobehangen van het Amsterdamse merk zijn terug te vinden in onze online collectie. Prachtige natuurlijke dessins zoals het gebloemde KEK Amsterdam Engraved Flower behang en het landschap achtige KEK Amsterdam Golden Age behang zorgen voor een uitnodigende en chique uitstraling in uw interieur. Ontdek de collectie KEK Amsterdam fotobehang bij Coloredwalls.
KEK Amsterdam kinderkamer behang
Het Nederlandse merk KEK Amsterdam heeft ook een prachtige collectie kinderkamer behang. Populair onder de kinderen is het speelse jungle behang, waarmee ze zich in een waar oerwoud wanen. Laat uw KEK behang op maat maken zodat het perfect in de kamer en bij de gewenste stijl past. Ontdek de hele collectie KEK Amsterdam kinderkamer behang bij Coloredwalls!