.
Inloggen
Als u een account bij ons heeft, meld u dan aan.
Nog geen account? Registreren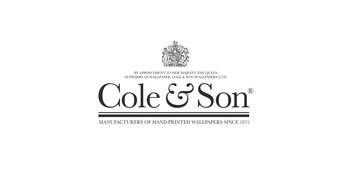 Cole & Son
Een van 's werelds meest vooraanstaande behangmerken is het Engelse Cole & Son. Cole & Son kent een lange geschiedenis die teruggaat naar de oprichting door John Perry in 1875. Het bedrijf opereerde in Noord Londen, waar het samen met nog tientallen andere behangbedrijven in dat gebied gebruikmaakte van de blockprint techniek. Het merk leverde in die tijd aan alle grote, bekende bedrijven en voorzag ook historische gebouwen, zoals het Buckingham Palace, van Cole and Son behang. Halverwege de 20e eeuw moderniseert Cole & Son door naast blockprint ook gebruik te maken van screen print. Vandaag de dag bestaat het behangarchief uit een paar duizend designs, waarvan de meeste nog met block print op het behang bedrukt worden.
Cole & Son behang omvat nog steeds de klassieke behangsoorten, maar ook nieuwe moderne designs, zoals het Palm Jungle behang, Singita behang en het Woods behang. Alle behangsoorten zijn ondergebracht in verschillende collecties, zoals de Fornasetti collectie. Of u nu op zoek bent naar een oud Engels behang, een bloemenbehang of een modern behang, met het behang van Cole & Son kunt u alle kanten op. Kijk bijvoorbeeld eens naar het populaire Savuti behang waarop wilde dieren staan afgebeeld, of het Hollywood Palm behang waarmee u zich tussen de palmbomen in Hollywood lijkt te bevinden. Op zoek naar een wat abstractere print? Wellicht is het Feather Fan behang iets voor u!