.
Inloggen
Als u een account bij ons heeft, meld u dan aan.
Nog geen account? Registreren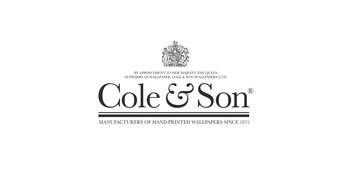 Cole & Son
Cole and Son behang
Een van 's werelds meest vooraanstaande behangmerken is het Engelse Cole & Son. Cole & Son kent een lange geschiedenis die teruggaat naar de oprichting door John Perry in 1875. Het bedrijf opereerde in Noord Londen, waar het samen met nog tientallen andere behangbedrijven in dat gebied gebruikmaakte van de blockprint techniek. Het merk leverde in die tijd aan alle grote, bekende bedrijven en voorzag ook historische gebouwen, zoals het Buckingham Palace, van Cole and Son behang. Halverwege de 20e eeuw moderniseert Cole & Son door naast blockprint ook gebruik te maken van screen print. Vandaag de dag bestaat het behangarchief uit een paar duizend designs, waarvan de meeste nog met block print op het behang bedrukt worden.
Cole & Son behang omvat nog steeds de klassieke behangsoorten, maar ook nieuwe moderne designs, zoals het Palm Jungle behang, Singita behang en het Woods behang. Alle behangsoorten zijn ondergebracht in verschillende collecties, zoals de Fornasetti collectie. Of u nu op zoek bent naar een oud Engels behang, een bloemenbehang of een modern behang, met het behang van Cole & Son kunt u alle kanten op. Kijk bijvoorbeeld eens naar het populaire Savuti behang waarop wilde dieren staan afgebeeld, of het Hollywood Palm behang waarmee u zich tussen de palmbomen in Hollywood lijkt te bevinden. Op zoek naar een wat abstractere print? Wellicht is het Feather Fan behang iets voor u!
Cole and Son Behang bij Coloredwalls
Ontdek de collectie van Cole and Son bij Coloredwalls. In de huidige collecties van het prachtige Engelse behangmerk Cole and Son komt de weerspiegeling van de geschiedenis en passie voor klassiek behang terug in de prints. Cole and Son behang heeft prachtige prints in vele kleuren die uw interieur een tijdloze uitstraling geven. Het gehele assortiment is via ons verkrijgbaar. Heeft u vragen? Neem gerust contact met ons op!
Cole and Son Woods behang
Het Cole and Son Woods behang bestaat uit prachtige schetsen van bomen in meerdere banen. Het populaire Woods behang is eerst ontworpen als zeefdruk maar werd later uitgebracht als muurbekleding. Het behang zorgt voor een natuurlijke en rustige sfeer in uw kamer. Het Cole and Son Woods behang is maar liefst in 13 kleuren verkrijgbaar, in een subtiele glans maar ook in matte uitvoeringen. Voor meer inspiratie bekijk de pagina bos behang. 
Cole and Son Savuti behang
Het mooie Cole and Son Savuti behang is geïnspireerd op het Nationaal Park in Botswanen in Afrika. Het park staat bekend om de verschillende vogelsoorten die in het wild te zien zijn. Het Savuti behang is gebaseerd op een aantal van deze bijzondere dieren en deze zijn dan ook terug te zien op het behang. Met het Cole and Son Savuti behang komt de Afrikaanse tuin tot de verbeelding in uw interieur. Het Savuti behang is verkrijgbaar is 7 verschillende kleuren.