.
Inloggen
Als u een account bij ons heeft, meld u dan aan.
Nog geen account? Registreren
Muren behangklaar maken: het gebruik van muurvuller
12 Mar 2020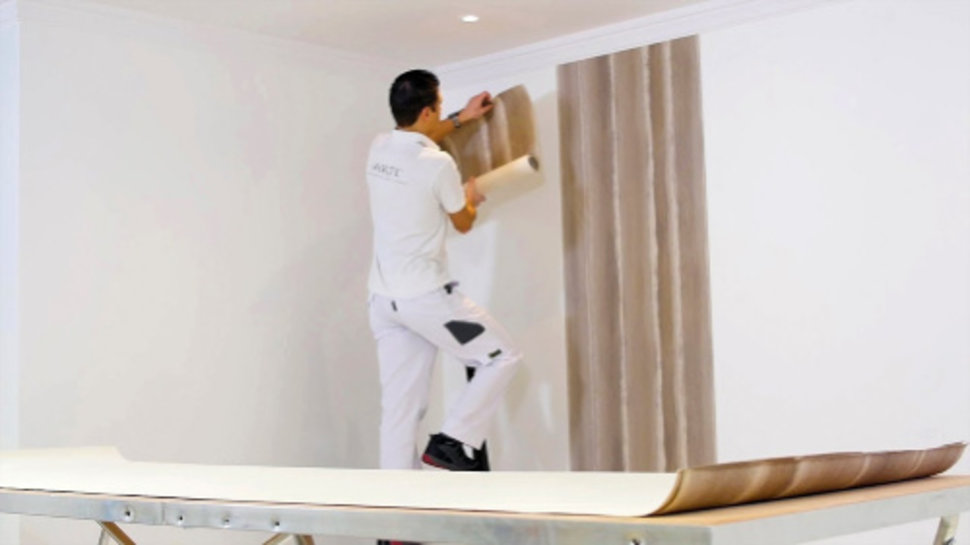 Wanneer u gaat behangen is het van groot belang dat de muur zo gaaf mogelijk is. Niet alleen dient hij schoon en droog te zijn, maar ook oneffenheden moeten verwijderd worden om te voorkomen dat deze in het behang zichtbaar zullen zijn. Zo kunt u korreltjes het beste van de muur afschuren en vult u kleine of grote putjes op met muurvuller. In deze blog vertellen we u over de verschillende soorten muurvuller en hoe u dit aanbrengt om een zo gaaf mogelijke muur te krijgen. Op deze manier krijgt u namelijk het mooiste behangresultaat.
Om te beginnen is het goed om te weten dat kleine gaatjes gemakkelijk opgevuld kunnen worden met een sneldrogende muurvuller, deze wordt vaak in een tube verkocht. Gaat het om echt grote gaten, dan raden wij aan een kant en klare muurvuller in een emmer te gebruiken. Beide zijn verkrijgbaar bij de bouwmarkt.
Kleine gaten: muurvuller in tube
Verwijder loszittende delen met een zachte borstel en zorg dat de muur droog, schoon en vetvrij is. Om zeker te zijn van een optimale hechting, gaat u er nog even overheen met een schuurpapiertje, zodat het oppervlak niet te glad is. Kneed de tube goed voor gebruik en breng de muurvuller rechtstreeks vanuit de tube aan op de plek die gevuld moet worden (niet eerst op een plamuurmes). Druk de vuller stevig aan en werk glad af met een vochtig plamuurmes. Vaak is een sneldrogend vulmiddel al droog binnen 30 minuten. Bekijk het resultaat en schuur het eventueel een beetje op als dat nodig is. Daarna kunt u direct verder met de volgende stap om uw muur behangklaar te maken, bijvoorbeeld voorstrijken.
Benodigdheden:
Sneldrogende muurvuller in tube
Plamuurmes
Zachte borstel
Schuurpapier
Hobbymes (om de spuitmond af te snijden)
Grote gaten: muurvuller kant en klaar of op poederbasis
Ook een vulmiddel voor grote gaten kunt u kant en klaar kopen, zodat u zelf geen componenten met elkaar hoeft te mengen. Vaak heeft deze manier van vullen wel een droogtijd van 24 uur. Wilt u snel door met uw behangklus, dan zijn er ook sneldrogende oplossingen. Volg in dat geval de aanwijzing op de verpakking. Begin met de vloer te bedekken met afdekfolie. Voor gebruik van een kant en klare muurvuller zorgt u vervolgens dat de loszittende delen op de muur verwijderd zijn met een zachte borstel. De muur moet schoon, droog en vetvrij zijn. Schuur eventuele gladde oppervlakken op voor een goede hechting. Roer de muurvuller licht door en breng het vulmiddel op de muur aan met een plamuurmes. Druk goed aan en strijk met een vochtig plamuurmes van binnen naar buiten voor het beste resultaat. Nadat de muurvuller droog is, kunt u het resultaat indien nodig nog wat bij schuren met schuurpapier. Nu bent u klaar om te behangen!
Benodigdheden:
Muurvuller kant en klaar voor grote gaten
Afdekfolie
Plamuurmes
Zachte borstel
Schuurpapier